Biography
Bird Photos
Other Photos
Latest Photos
Equipments
Trips
Links
Contact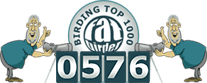 Bird Photos and Nature Photos
by Antti Below




Welcome to my nature photo pages!


My pages consist mainly of bird photos but other nature photos are also included in a smaller amount. At this moment, there are about 4300 bird photos more than 500 species. The situation changes continuously when the scanning of old slides proceeds and new digital photos are taken. I have tried to offer a wide range of bird photos but still to sustain a good quality in pictures. (NOTE: The original digital photos are normally 5-9 MBs of size but the photos you are able to see in my pages are about 100 kbs!).

By clicking the photos or texts below or texts on the left block, you will be directed to the pages. I hope you will enjoy watching these pictures. Please, do not hesitate to contact me, if you have any comments, questions, corrections, orders etc. I am able to understand messages sent in Finnish, English, Swedish, Spanish and German, but my skills in answering your mails will be resticted only in first three languages mentioned above.
---
---
NOTICE 1: Scanned slides are being transferred to the bird photo pages. This will increse the number of species in pages quickly. You can identify scanned photos of letter "s" in the end of file name.

NOTICE 2: In bird pages, between 8-18 European languages can be used for searching by the names of birds and much more languages for navigation (choose your language on top right corner).



photo, photography, digital, picture, pix, photos, pictures, bird photo, nature photo, mammal, plant, landscape, birds, drganflies, dragonfly, butterfly, butterflies

Mute Swan Whistling Swan Whooper Swan Bewick's Swan Taiga Bean Goose Tundra Bean Goose Pink-footed Goose Greater White-fronted Goose Lesser White-fronted Goose Greylag Goose Canada Goose Barnacle Goose Dark-bellied Brent Goose Red-breasted Goose Egyptian Goose Ruddy Shelduck Common ShelduckWood DuckEurasian Wigeon Falcated Duck Gadwall Baikal Teal Common Teal Mallard Northern Pintail Garganey Northern Shoveler Red-crested Pochard Common Pochard Ring-necked Duck Tufted Duck Greater Scaup Common Eider King Eider Steller's Eider Harlequin Duck Long-tailed Duck Common Scoter Velvet Scoter Common Goldeneye Smew Red-breasted Merganser Goosander Hazel Grouse Willow Ptarmigan Rock Ptarmigan Black Grouse Western Capercaillie Chukar Sand Partridge Black Francolin Grey Partridge Common Quail Common Pheasant Red-throated Diver Red-throated Loon Black-throated Diver Black-throated Loon Little GrebeGreat Crested Grebe Red-necked Grebe Horned Grebe Black-necked Grebe Northern Fulmar Northern Gannet Great Cormorant Shag Socotra Cormorant Great White Pelican Black-crowned Night Heron Squacco Heron Cattle Egret Western Reef Egret Little Egret Grey Heron Purple Heron Black Stork White Stork Glossy Ibis European Honey Buzzard Black Kite White-tailed Eagle Egyptian Vulture Eurasian Griffon Vulture Lappet-faced Vulture Short-toed Eagle Western Marsh Harrier Hen Harrier Pallid Harrier Montagu's Harrier Northern Goshawk Eurasian Sparrowhawk Shikra Common Buzzard Long-legged Buzzard Rough-legged Buzzard Lesser Spotted Eagle Greater Spotted Eagle Steppe Eagle Imperial Eagle Golden Eagle Bonelli's Eagle Osprey Common Kestrel Merlin Eurasian Hobby Lanner Falcon Saker Falcon Peregrine Falcon Barbary Falcon Water Rail Corn Crake Common Moorhen Eurasian Coot Common Crane Houbara Bustard Eurasian Oystercatcher Black-winged Stilt Stone-curlew Cream-coloured Courser Little Ringed Plover Common Ringed Plover Kentish Plover Lesser Sand Plover Greater Sand Plover Eurasian Dotterel Pacific Golden Plover European Golden Plover Grey Plover Spur-winged Lapwing Sociable Lapwing Red-wattled Lapwing White-tailed Lapwing Northern Lapwing Red Knot Sanderling Little Stint Temminck's Stint Long-toed Stint Curlew Sandpiper Purple Sandpiper Dunlin Broad-billed Sandpiper Ruff Jack Snipe Common Snipe Great Snipe Eurasian Woodcock Bar-tailed Godwit Whimbrel Eurasian Curlew Spotted Redshank Common Redshank Marsh Sandpiper Common Greenshank Green Sandpiper Wood Sandpiper Terek Sandpiper Common Sandpiper Ruddy Turnstone Red-necked Phalarope Parasitic Skua Parasitic Jaeger Long-tailed Skua Long-tailed Jaeger Sooty Gull Pallas's Gull Little Gull Sabine's Gull Black-headed Gull Slender-billed Gull Mew Gull Common Gull Lesser Black-backed Gull Herring Gull Armenian Gull Heuglin's Gull Iceland Gull Glaucous Gull Great Black-backed Gull Black-legged Kittiwake Caspian Tern Sandwich Tern Greater Crested Tern Common Tern Arctic Tern Little Tern Whiskered Tern White-winged Tern Razorbill Black Guillemot Black-bellied Sandgrouse Rock Dove Stock Dove Common Wood Pigeon Eurasian Collared Dove Laughing Dove Namaqua Dove Common Cuckoo Pallid Scops Owl Eurasian Eagle Owl Northern Hawk Owl Eurasian Pygmy Owl Little Owl Tawny Owl Ural Owl Long-eared Owl Short-eared Owl European Nightjar Common Swift Little Swift White-throated Kingfisher Common Kingfisher Green Bee-eater Blue-cheecked Bee-eater European Roller Indian Roller Eurasian Hoopoe Eurasian Wryneck Grey-headed Woodpecker Black Woodpecker Middle Spotted Woodpecker White-backed Woodpecker Lesser Spotted Woodpecker Three-toed Woodpecker Desert Lark Hoopoe Lark Greater Short-toed Lark Crested Lark Thekla Lark Wood Lark Oriental Skylark Eurasian Skylark Horned Lark Temminck's Lark Plain Martin Sand Martin Rock Martin Barn Swallow Red-rumped Swallow Common House Martin Richard's Pipit Tawny Pipit Berthelot's Pipit Long-billed Pipit Olive-backed Pipit Tree Pipit Meadow Pipit Red-throated Pipit Water Pipit Rock Pipit Buff-bellied Pipit Blue-headed Wagtail Yellow Wagtail Grey-headed Wagtail Black-headed Wagtail Citrine Wagtail Grey Wagtail White Wagtail White-spectacled Bulbul Bohemian Waxwing White-throated Dipper Winter Wren Dunnock Alpine Accentor Rufous-tailed Scrub Robin European Robin Thrush Nightingale Common Nightingale Siberian Rubythroat Bluethroat Siberian Blue Robin Red-flanked Bluetail Black Redstart Common Redstart Moussier's Redstart Blackstart Whinchat Siberian Stonechat Isabelline Wheatear Northern Wheatear Pied Wheatear Eastern Black-eared Wheatear Desert Wheatear Red-rumped Wheatear Red-tailed Wheatear Western Mourning Wheatear Hooded Wheatear White-crowned Wheatear Black Wheatear Blue Rock Thrush Siberian Thrush Ring Ouzel Common Blackbird Fieldfare Song Thrush Redwing Mistle Thrush Pallas's Grasshopper Warbler Common Grasshopper Warbler Zitting Cisticola River Warbler Gray's Grasshopper Warbler Sedge Warbler Aquatic Warbler Paddyfield Warbler Blyth's Reed Warbler Marsh Warbler European Reed Warbler Clamorous Reed Warbler Great Reed Warbler Thick-billed Warbler Booted Warbler Icterine Warbler Asian Desert Warbler Barred Warbler Lesser Whitethroat Common Whitethroat Garden Warbler Blackcap Greenish Warbler Arctic Warbler Pallas's Leaf Warbler Yellow-browed Warbler Hume's Leaf Warbler Radde's Warbler Dusky Warbler Wood Warbler Northern Chiffchaff Willow Warbler Goldcrest Asian Brown Flycatcher Spotted Flycatcher Red-breasted Flycatcher Taiga Flycatcher European Pied Flycatcher Bearded Reedling Long-tailed Tit Marsh Tit Willow Tit Crested Tit Coal Tit Blue Tit Great Tit Eurasian Nuthatch Eurasian Treecreeper Eurasian Penduline Tit Brown Shrike Daurian Shrike Red-backed Shrike Great Grey Shrike Steppe Grey Shrike Eurasian Jay Siberian Jay Common Magpie Spotted Nutcracker Western Jackdaw Red-billed Chough House Crow Rook Hooded Crow Brown-necked Raven Common Raven Common Starling House Sparrow Spanish Sparrow Eurasian Tree Sparrow Indian Silverbill Common Chaffinch Blue Chaffinch Brambling Atlantic Canary European Greenfinch European Goldfinch Eurasian Siskin Common Linnet Twite Mealy Redpoll Arctic Redpoll Two-barred Crossbill Common Crossbill Parrot Crossbill Desert Finch Trumpeter Finch Common Rosefinch Pine Grosbeak Long-tailed Rosefinch Eurasian Bullfinch Lapland Longspur Snow Bunting Yellowhammer Cirl Bunting Striated Bunting Ortolan Bunting Rustic Bunting Yellow-breasted Bunting Common Reed Bunting Corn Bunting