Biography
Bird Photos
Other Photos
Latest Photos
Equipments
Trips
Links
Contact
Homepage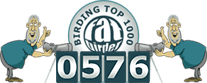 Bird Photos and Nature Photos
by Antti Below


Latest
2020




Week 40
There were hundreds of Bean Geese, White-fronted Geese and Barnacle Geese near my home. On Friday I drove quickly to an interview about management of shore meadows, when I noticed a flock of geese near the road. I noticed one pale individual among them and stopped the car. I quickly watched by binoculars and identified the bird as Pink-footed Goose, quite rare in southern Finland. I jumped out of car, took about twenty pics and rushed to an interview. When returning, the Pink-footed was not visible anymore, but luckily some of the pics were ok.

Week 38

I took my dog out one morning and when returning from a short walk to home I heard intensive call "viit" from the forest edge. I went on walking but trying to figure out the species. After 20-30 meters walk I somehow wondered, what kind of call Orange-flanked Bluetail might have. I knew the "trrt" call, but this was not familiar to me. I took my phone and searched the call of OfBt from Xeno-Canto. And the call matched! The bird came immediately visible. I took my dog quickly home and took my camera with me. I played the call again and the bird came back t the forest edge. Below three photos of this bird.






Some shoots from 2019:

In spring I photographed grazy Hazel Grouse in Helsinki, Rock Pipit in Porvoo archipelago and White-tailed Sea Eagle in Kuusamo from hide.




In June I joined a group of ornithologists who made line transect countings in Lapland. Below some results from that journey. Rough-legged Buzzard, Lapland Buntings, Temminck's Stint, Long-tailed Ducks and Long-tailed Skuas.



During 2019 I made seabird countings by boat in Helsinki-Sipoo offshore area and I encountered Little Gulls in various plumages.



Also Common Guillemots, Black Guillemots and one young Red-necked Phalarope was photographed.